By Randy Kemner, Proprietor
We've had mild weather in California the past two years.

The seasonal extremes that have brought raging sugars to California's grapes during most harvests (with the resulting high alcohol) simply didn't happen and, judging by just one excellent winery's outstanding 2010s, (Talley Vineyards, whose Chardonnays are more brilliant than ever--released May 1), it'll be curious to see if more of our state's wines will be similarly elegant and refined.

The big unanswered question is, will the public and their wine writers be drawn to less sweet and powerful wines or will they miss their brawnier power-wine fixes?
My guess is, some will and some won't.

You see, we've become "fragmented" in our wine preferences, to use a term recently proffered by a wine publication.

In other words, there is no single huge trend in the world of fine wine (except for the entry-level Moscato phenomenon).
So, as we always do, we turn to the seasons to provide a guide to what we'll be drinking next.

It's more reliable than guessing the next media-manufactured fad.
It's now April, the shoots are barely poking through the ground and already the first of the 2011 rosés have begun to arrive.

While I usually wait at least until Memorial Day before I start craving those refreshing, crisp pink refreshers, I must admit, they taste pretty good right now.

Dip your toe into Domaine du Foquette, Moulin de Gassac, Von Buhl Pinot Noir rosé and Domaine de Fontsainte until the bulk of our shipments arrive later this month and in May and June.
At home Dale got ambitious and tore out everything in all her planters.

She's determined to surround our home with a massive vegetable and berry garden and I'm all for it.

The fact that for four generations our fellow countrymen and women continue to settle for those excuses for produce they sell at our grocery stores just shows how dependent we've been on industrial food and how far we've been separated from the source of our food.

The tastes of garden cauliflowers, lettuces, tomatoes, cucumbers, cantaloupes and strawberries are a revelation.

No need to slather your lifeless veggies in butter and salt to give them flavor.

And dry rosé wine is near-perfect as a fresh-tasting complement to garden cuisine.
Spring is a time I begin to turn to livelier wines like Sauvignon Blanc and Chenin Blanc, especially Sancerre, Vouvray and Montlouis.

All

are less weighty than Chardonnay and suggest freshness and light as we gradually shed ourselves of the heartier dishes of winter.
Pinot Noir and Beaujolais—which I drink all year 'round—have a special significance in the spring.

Later we'll be grilling steaks outdoors and seeking out sassier reds, but spring is a season of transition.

Vouvray, Sancerre, Touraine Sauvignon, Cote de Brouilly, Gavi and Soave will all find a place at our table this season.

So will some New Zealand and California Sauvignon Blancs.

If I need more fruit for my dish, I'll add the Germans.

And don't forget Spanish Albarino and Rueda.
Alsace wines also deliver in spring as well as they do all year 'round.

There are so many choices for so many tastes. And if you look in the right places, many of them are so much brighter tasting than what you may be used to. They are vibrant and full of life, in essence, "spring-like".
I suppose I'm saying all this to try to get you out of any wine ruts you've been stuck in.

As I've written before, even your favorite food gets tiresome if you eat it every day.

Too much of a good thing is too much.
When you think of wine as what it essentially is--fruit--you tend to use it as such, especially at your table, rather than viewing wine simply as your favorite brand of flavored booze.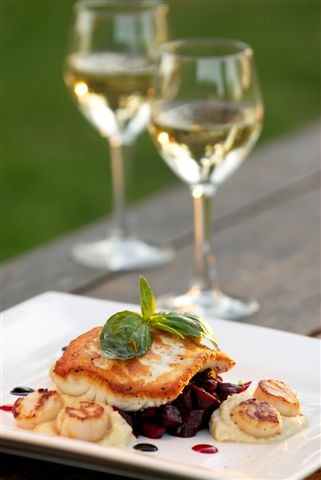 In that regard, a person who only drinks a single brand of wine is little different than a Stoli drinker--only the flavor and potency are different, not the way they consume it.
Wine can offer so much variety, especially these days.

It'd be a shame if you miss out on all it has to offer.