by Randy Kemner, Proprietor
There is a curious and not-so-attractive quirk of human nature that the most accessible something is--whether art, music, collectables, or in our case, wine, somehow, the more bourgeois it is. Humans have this amazing duality that makes us want to fit in, yet at the same time stand out from the crowd. Kinda crazy-making, isn't it?
Most of us have immature tastes in our youths. We crave sweet things and shy away from sour-tart, spicy-hot and bitter tastes. Along the way we mature, adapt and become accustomed to new flavors, the herbs and spices of other cultures and tastes we once deemed inedible or painful to consume.
But do we ever lose our primal urge for sweets? Food scientists have theorized our passion for sweets is a prehistoric throwback to the need for Vitamin C found in citrus fruits. When you look at our fructose-and-sucrose-laden foods all around us, it becomes clear many of us still have a penchant for sweets. For some, it is our motivating carbohydrate.
Consider for a moment the joys of biting on a perfectly ripe strawberry, or a juicy peach at its optimal peak. Or sweet grapes, for that matter. Not only does this joy spring from the satisfying of a primal need, it is viewed as a healthy alternative to processed, sugary foods. But when that source of sweet fruit becomes liquid and is found in a wine glass, many wine drinkers reject it as a bourgeois act--a drink for the uninitiated, the immature, the hayseeds.
I get it and I don't get it.
Last week, our Thursday "Commuter Tasting" spotlighted Moscato d'Asti, the world's prettiest wine. Made from a superior clone of Muscat grown in the cool climate of Italy's northern Piedmont, it is fermented in pressurized stainless steel tanks which preserve its gorgeous fruitiness and holds in its natural frothiness. The result is a low-alcohol wine that is as pleasurable as any taste on the planet. And many of the region's leading producers of collectable red wine also produce the gorgeous, Moscato d'Asti.
Moscato has become nothing short of a phenomenon in the U.S.; it is the fastest growing category of wine in the country. As I've written before, Moscato is the White Zinfandel of our age. As baby-boomers age out of the fine wine market, a new generation is discovering wine from the sweet "primal" pleasure of its freshest-tasting, most natural and fruit-like wine. This is not lost on the industrial wineries who are rushing to make cheap versions of Muscat to sate the demand of this emerging market. The trouble is, cheap muscat is merely sweet, and it is clumsy to drink. It'll do for those non-discerning folks merely wanting a sweet taste to their wine, but those versions won't inspire anyone to want to explore fine wine further. Not like the Moscato of Asti, a special wine with a uniquely sophisticated balance of fruit and acidity.
The secret to fine wine, of course, is balance, a difficult concept for new wine drinkers to identify, but an essential trait if one wants to sustain interest in a wine. And balance is a critical component in wine destined to be aged in a cellar. Balance, quite simply, is the equilibrium in a wine between acidity and fruit, oak and fruit, texture and fruit. When Moscato is in balance, it isn't simply sweet, it possesses the character I described earlier of a perfect strawberry, grape, peach or apple: sweet and tart playing off each other in perfect harmony. It's the same thing that makes German Riesling so spectacular at any sweetness level.
Back to our commuter tasting, women attendees outnumbered the men seven-to-one. As I recall from the mid-1980s, white Zinfandel drinkers were predominately women, but that didn't mean men didn't like sweet drinks--they were drinking Riesling, Jack and Cokes, Bourbon and Sevens and semi-sweet Chenin Blancs. The men at our tasting ranged from wine beginners to experienced tasters, because Moscato d'Asti is a fine wine deserving of critical attention. It just so happens, it is also delicious.
Ronnie Grant selected six of his top Moscatos, but we began the tasting with a brown-bagged "mystery wine"--a rich-tasting, Asti-styled, sustainably-farmed 2011 Moscato from Mendoza Argentina called Arido ($9.99)--that was sweet and frothy, like the Asti versions, without the razor sharp structure of its best wines. Nonetheless, the generous fruit and effervescent charm of this wine made it the favorite of a third of the tasters that day.
The first Moscato d'Asti we sampled was the 2011 Tintero ($11.99), a beautiful Kermit Lynch import that prompted one taster to buy a whole case to take home. Not as fine as some, it still has better concentration of fruit than one expects, especially for its bargain price.
This was followed by Elio Perrone's 2011 version ($17.99), a more delicate, fresh-tasting wine. This appealed to those who preferred less sweet Muscats.
Next up was my star of the show, though not everyone's. The 2010 Vajra Moscato d'Asti ($19.99) has everything--richness, balanced acidity, sweetness, freshness--but the wine's exceptionalism was in the level of fruit concentration and apricot-and citrus flavors that made it stand above the rest.
Several attendees told me their favorite wine of the tasting was the 2011 La Spinetta Bricco Quaglia ($19.99), a very fresh-tasting version from Giorgio Rivetti. It has an expansive frothiness to it, though it wasn't the sweetest wine on the table. It exhibited a finesse we expect from the wines of La Spinetta.
Next on the table was Paolo Saracco's 2011 ($15.99). Perhaps one of the most dependable producers of Moscato, the wine gets everything right in a middle-of-the-road way. A solid and satisfying Moscato with no highs or lows, it is simply a well-made and fresh-tasting wine with moderate sweetness and froth.
The last entry was the favorite at last year's tasting, but much less popular this year. Ceretto's 2010 Santo Stefano ($19.99), with its cool-looking, tall and slender dark bottle, was not as sweet or generous as I was hoping for, and very fizzy in the mouth. Truth be told, it was merely O.K., and I was somewhat disappointed by its performance that day.
So that was it. 40 people attended, and there was joyfullness in what we all were drinking.
I know why Moscato is so popular among newbies, but I simply don't know why it isn't more popular with experienced wine drinkers. Is it the "dry-wine-is-superior" thing? Well, that's nonsense on serveral fronts: one, Chateau d'Yquem Sauternes; two, German trockenbeerenauslese Riesling; and three, 40 year old vintage and tawny ports. And that's just for starters.
Our friend and wine sage Carl Taylor is quick to point out that although there are famous top wines now priced out of reach--think first-growth Bordeaux or Domaine de Romanee-Conti Burgundies--there are still wines like the best Cru Beaujolais and the finest of the Loire's Vouvray, Montlouis and Sancerre--from its region's greatest producers--that cost under $30. Even more exciting is wine from Moscato, where the difference between the most mundane, industrially produced wines and the best there is is less than a $15 spread. $5 buys you junk and $20 buys you the world's finest! What else can you buy that is "the world's finest" for just $20?
Perhaps more experienced wine drinkers would love to drink more Moscato d'Asti, but just don't know where to fit this fresh-tasting delight into their wine lives?
I'll give you a few hints:
The Piedmontese serve the year's newest Moscato d'Astis with their famous fruitcake, pannetone, each Christmas.
Try this low-alcohol beauty with Sunday brunch out on the patio this summer.
Serve it in place of a sorbet just before the cheese course in a formal meal.
Enjoy a glass as you are watching the sun set.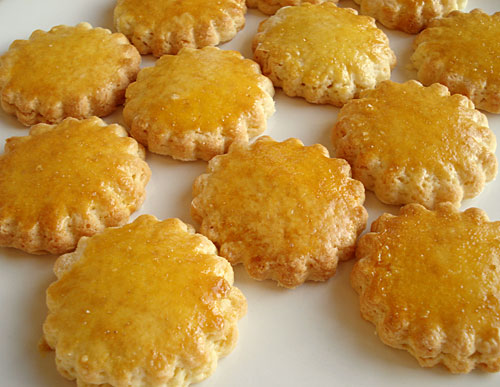 Finish off a meal with a glass and some barely-sweet Brittany butter cookies (yes, we sell those, too).
Or just pour a glass of Moscato d'Asti for the primal pleasure of doing so.