by Randy Kemner, Proprietor
I'm beginning to wonder if anybody in America gives two damns about Cabernet Franc.
It is a parent variety to Cabernet Sauvignon, the sole ingredient in the food-friendly wines of Saumur-Champigny, Bourgueil and Chinon, and it is a major player in the red blends of Bordeaux. It is used by California vintners as a blending grape with many top red wines, and even made into varietal wines by a few devoted producers. With a reach so large and a constituency so small, Argentine Malbec outdrew our Cabernet Franc tasting by over a two-to-one margin at recent tastings at The Wine Country.
And we even offered free steak samples at our Saturday Cabernet Franc tasting!
Because California vintners have had little success marketing the varietal, Cabernet Franc is simply an unknown quantity here in the U.S. where everything is measured through California-colored glasses. What that means to the consumer is basically, because there is little experience with the wine, few wine lovers really know what the varietal should taste like.
Because I tend to focus on what a wine is supposed to do as much as what a wine is, I think about what I'll be able to eat with each new wine I encounter, and that is especially true for Cabernet Franc.
As a wine merchant, I also ask myself if any of our customers will like this wine when they get it home. Of all the reds we carry, Cabernet Franc just may need food more than any other to fully express itself.
That's why we served grilled steak at our Cabernet Franc tasting. In my experience, Cabernet Franc from Anjou to Tours in France's Loire Valley blossoms in the glass when I'm eating beef, while most Cabernet Sauvignons from Napa Valley are diminished with food. Do I want a wine that gets better or worse with what I'm eating? For me the choice at the dinner table is as simple as that.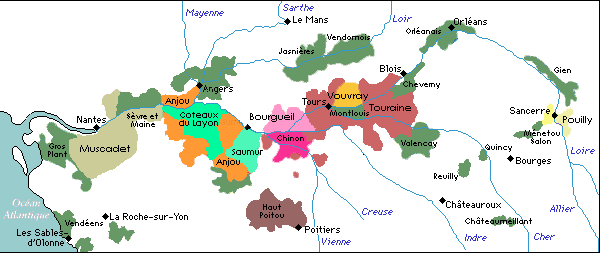 But Cabernet Franc from the Loire can be earthy, austere and a bit grumpy in a stand-up tasting format. They aren't sweet and they don't have flashy fruit. They'll always lose in a side-by-side contest with Cabernet Sauvignon unless you've acquired a taste for them.
Early in my wine education I read that Cabernet Sauvignon was a noble wine. "Not so," says our general manager Samantha Dugan, an unabashed francophile. "Cabernet Franc is the noble variety."
I gave it some thought. Are there any great Cabernet Sauvignons that are 100% varietal? Most of the great red wines made from Cabernet Sauvignons are blends, especially those classified growth Bordeaux that established its reputation. How noble is it when the wine needs other varieties to make it complete? It's hard to argue with Sam on that point.
Others have chimed in as well. Loire Valley wine writer Jacqueline Friedrich wrote in A Wine and Food Guide to the Loire, "Cabernet Franc is the queen of the Loire." She added, "it charms when young and beguiles when aged." She wrote eloquently of old Breton wine (the local name for Cabernet Franc). "I have an image of an old handkerchief made of fine cloth softened after years of being folded into purses, still carrying whiffs of many exquisite perfumes, mingled, muted, and fugitive." The Oxford Companion to Wine muses, "When the pendulum swings back from super-concentrated, high-alcohol reds, Cabernet Franc may be expected to benefit."
These are the kinds of wines you find not in the 3 Star restaurants of Paris, but offered in just about every other restaurant tucked away in its side streets and alley ways. They are popular because they work, and they are popular because they are affordable enough to enjoy more than once a year.
After tasting through the first five or six wines in our Cabernet Franc tasting, I was struck by the distinctly different personalities of the variety grown in the cool Loire Valley. The first couple wines embodied more of the soul of red Burgundy than Bordeaux. They were the 2009 Grand Breviande Chinon (13.99) and 2009 Legrand Les Lizieres
Saumur Champigny (13.99). That is, there was an elegance there, even though they were very young wines. The greatest Clos Rougeard Saumur Champignys came to mind, and I haven't tasted any better in the world than Rougeard's Cabernet Francs.
The next few wines were what I usually expect with Loire Cabernet Franc, earthy, dry, a bit green, a bit tannic, a little raw, austere. I don't think any of the wines were over 13.5% alcohol to that point. They included the 2010 Chateau de Belair Jour de Soif Bourgueil (15.99), 2010 Domaine de Chanteleuserie Cuvee Alouttes Bourgueil (14.99) and 2010 Breton Bourgueil Trinch (21.99).
Two folks, one a veteran taster and one newer to wine, both came up to me to tell me how great the wines tasted after a bite of steak, which was a central objective of our tasting. I thought back at all the wine tastings I'd been to in my life and how they were insufficient to prepare for their performance at the table. In the popular wine press, no wines are evaluated by their performance with food, the way most people drink these kinds of wine. An "89" or "90" rating is all people have to go by when trying to assess these wines by magazine. And a tasting of this sort is also insufficient, even with chunks of steak burying the tannins and acidity while drawing out the complexities of each wine.
Next came a red Graves, the 2010 Chateau Haut Mayne (14.99) with 60% Cabernet Franc. I like this wine a lot, and the Bordeaux exhibited the characteristic minerality of the region, along with a juicier than usual texture for Graves.
The American wines followed, the popular 2010 Bebame from Steve Edmunds (16.99) and the surprisingly good 2008 Ravines Cabernet Franc from New York's Finger Lakes (19.99). Both wines had more size than any of the wines that went before, yet they offered much of the same spirit as the Loire versions. It was only when we got to a North Coast version that a sloppiness emerged. Next to big Napa Cabernet Sauvignons, it would have been a lighter diversion, but next to the tight, focused Cabernet Francs that went before, it was clumsy. There are no other words to describe it.
Importer Michael Sullivan has spoken of a wine's "deliciousness." These are wines with immediate pleasures because they provide us with primal satisfactions like sweetness, oak aromas and rich, heavy textures. What these wines rarely offer, however, is staying power, the ability to get more interesting and appealing as the glass empties. That is when a great wine begins to show its pedigree.
Young Cabernet Francs rarely offer deliciousness right out of the bottle. It is a very real reason the varietal is met with shrugs among most of our non-French wine customers. And since we aren't serving these wines at home with slices of tri-tip and Bordelaise sauce, they are challenging wines when served to the novice wine drinker, and wine drinkers striving for primal deliciousness.
That's why I thought a lure of grilled steak would certainly get people out of their complacency and swell the attendance rolls at our Saturday Cabernet Franc tasting. But I was wrong.
25 people attending any one of our Saturday tastings is a disappointment, when we've hosted over 130 before. And of those 25, there were some very satisfied people, and a few that admittedly were looking for more "deliciousness."
Until more of our customers discover what these wines can do for them at home, Cabernet Franc will remain a cult favorite among its devotees, and we have a considerable clientele who love these wines but have other stuff to do on Saturdays.
And for those of you who are curious to learn what we already know, the great thing is, once again, they don't cost a lot to try out.