By Randy Kemner, Proprietor
A
fter tasting through the fantastic vinegars and olive oils from Sonoma County's B.R. Cohn, I was struck at their vibrant flavors.

Then I began to think of all the families in America that plop down bottled salad dressings full of additives and preservatives and remembering how weird they really taste.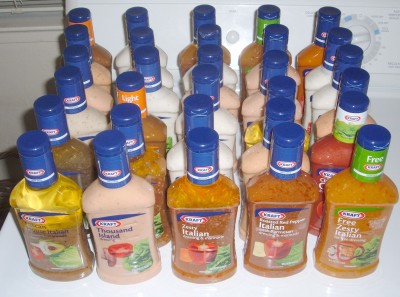 We've given up a lot in this country in terms of freshness and flavor.

Mass-marketing has conditioned us to desire food products that are designed for the convenience of the seller and the shipper, but are not particularly fresh tasting or even healthy for us.
Anyone who gardens their own vegetables knows how different fresh lettuces taste from lettuce that was picked weeks ago.

Dale bought some strawberries recently that were red, but not truly ripe—they had little strawberry flavor and were not sweet.

Ditto store-bought blackberries, raspberries and blueberries packaged in plastic containers posing as fresh fruit.

You see, it is impossible to pick these things at optimum ripeness unless they can sell them that day.

Otherwise they turn to mush and are only good for jam.

It isn't feasible.

So they sell us unripe fruit and we have to add sugar to fool us into thinking we're eating something good.
Wine is like that, too.

Most mass-produced grocery store wine tastes like it came out of a can, while cold climate wine gives you the sense you are drinking something fresh.

For me there is no contest.
Dressing your salad means you have to make a salad dressing from scratch or buy a pre-made industrial imitation. if you want a fresh, vibrant taste, it's obvious which one to choose.

If "convenience" is your reason for buying an industrially-bottled vinaigrette, just how hard can it be to make your own dazzling salad dressing?
I asked the staff of The Wine Country to submit their favorite salad dressing recipes and we'll see just how simple it is to make.

Start with a good oil and some good vinegar and the sky is the limit.
Like most, I don't have an actual recipe for this dressing but it is the one I make the most often.
Samantha's Lemon & Garlic Dressing
1-2 cloves of garlic diced
Juice of one lemon
Kosher salt
Black pepper
Olive oil.
Mince garlic, sprinkle with a good pinch of coarse salt and with the back of your knife smash into a paste. Place in the bottom of a bowl and add the juice of one lemon, whisking until incorporated. Drizzle in good quality olive oil, (I prefer to use a softer, buttery, less peppery style olive oil for this dressing as the lemon juice adds the tang and high acid) like the Enfuso Early Harvest) while whisking until desired thickness. Add pepper, taste and adjust salt as needed.
Sam's Amazing Garlic Bleu Cheese Dressing
2 cups mayonnaise
1 cup sour cream
¼ cup cider vinegar
Tiny pinch of sugar
Salt and pepper to taste
3-6 cloves of minced garlic
Dash of Tabasco (or more to taste)
¼ pound blue cheese (I use Maytag or Roaring 40s)
Place all ingredients in a blend, (reserving some of the blue cheese if you prefer a chunkier dressing) in a blender and blend until smooth, adjusting salt, pepper and hot sauce to taste. If adding additional cheese crumble into blended dressing and refrigerate for at least an hour to let flavors combine.

Serve on a crispy wedge of fresh iceberg lettuce
I have two salad dressing recipes that I use at home. The first one is simple and is the base (oil and acid) for any great vinaigrette.
Ronnie's Simple Vinaigrette
It is just some olive oil, fresh lemon juice, and salt; all to taste.

Play with it and create a dressing that works best for you.

If you want to get crazy with this simple recipe maybe add some of the following:

shallots, black pepper, garlic, fresh herbs; even substituting balsamic vinegar for the lemon juice.
Of course, now you're getting into the classic "French Bistro" vinaigrette, which happens to be my second recipe:
Ronnie's French Bistro Vinaigrette
1 Tablespoon Dijon mustard;
1 Shallot, finely chopped;
¼ cup Champagne vinegar;
Generous pinch kosher salt;
Freshly ground black pepper;
¾ cup Extra-virgin olive oil.
In small bowl, combine the mustard, shallot, vinegar, salt & pepper.

Whisk in the olive oil in a steady stream until it's all incorporated & an emulsion forms.
Here's my basic every-day "vinaigrette" (which does not use vinegar).
Bennett's Non-Vinegar "Vinaigrette"
Crush a garlic clove and mix with generous pinch of kosher salt;
Add juice of one lemon or lime
Add teaspoon of Dijon-style mustard (optional)
Add best-quality extra virgin olive oil to proportion of 2, 3 or 4 to 1 to citrus juice, to taste and depending on tartness of the juice;
Add ground pepper and dried herb of choice (especially thyme, tarragon, or herbs de provence)
Emulsify all.
That's it.

Pretty simple.

I usually just put everything into a glass jar and shake vigorously to emulsify everything.
Jennifer's Favorite Vinaigrette
1/4 Cup Balsamic Vinegar
1/2 Cup Extra Virgin Olive Oil
1 small shallot, minced
1/2 tsp salt
1/2 tsp pepper
1/2 tsp Italian seasoning blend
Serve over a bed of mixed greens and your favorite chopped veggies.
This 13-ingredient classic Caesar Salad recipe was given to me by Art Petry who had made it tableside thousands of times while working as a waiter and captain at Continental-style restaurants in the 1970s.
Classic Tableside Caesar Salad
Romaine lettuce
, broken into bite-size pieces
¾ cup Extra Virgin Olive Oil
1 to 2 tablespoons Red Wine Vinegar
Juice of half a lemon
2 Raw Eggs, beaten lightly
2 or 3 Garlic cloves, peeled and minced
Teaspoon Dijon mustard
Dash of Worcestershire Sauce
¾ cup finely grated fresh parmesan cheese
Dash of Salt
Ground Pepper
2 canned Anchovies, mashed and minced
Crouton
s—made from day-old bread, cut up into one-inch cubes, lightly fried in oil, patted dry to absorb excess oil
Mix together oil, vinegar, lemon juice, garlic and egg.

Beat until you see a rich consistency begin to develop.

Add Worcestershire and mustard.

Stir in anchovies.

Add the parmesan and beat.

The parmesan will thicken the dressing.

Add salt and pepper to taste.

Adjust oil, lemon and vinegar to taste.

It should be rich tasting and bright.

Add croutons and stir some more.

The croutons will also thicken the dressing.

Pour mixture over the Romaine and toss.
Since this is a recipe that is made for personal flavor preference, adjust the amount of olive oil, vinegar, mustard, cheese and lemon to taste and consistency desired.

To thicken, add more oil and/or parmesan.