by Randy Kemner, Proprietor
The Wine Country
Friday night November 16, Dale's favorite FM station was playing Christmas music. Barry Manilow and Johnny Mathis back to back. Ready or not, the holiday season has been thrust at us, even though we Southern Californians have gone from summer weather directly to Nouveau Beaujolais.
Thanksgiving is just four days away and The Wine Country is bursting with new arrivals and stacks of old favorites crammed in as much floor space as we can muster. This is pretty much what every wine store does in anticipation of Thanksgiving. All hands are busy merchandising everything from Spottswoode Cabernet (a great wine we've been trying 17 years to acquire) and Inglenook Rubicon (yes, Inglenook Cabernet is back, thanks to Francis Coppola) to the sizzling hot Chenin Blancs and Cabernet Francs from the Loire Valley.
Ronnie Grant's Italian section added some really cool artisan wines while also packing in some last-minute Brunellos in anticipation of his incredible Friday night Brunello tasting on November 23rd.
Rumors of the death of Nouveau Beaujolais have been greatly exaggerated. We had a 40% year-to-year increase in attendance at our November 15th release party as people continue to appreciate what Nouveau is all about.
What it isn't is a wine that needs to be compared to any other. It isn't about anything other than a fresh-tasting quaff to mark the end of the 2012 harvest. We're drinking wine that was still alive and growing on the vine two-and-a-half months ago.
What it is, is a local Beaujolais tradition gone worldwide, a celebration of France, a celebration to kick off the holiday season and a ritual of fun for the fall. In fact, you can slightly chill a Nouveau and enjoy it perfectly well with your Thanksgiving dinner. Then, as abruptly as it arrives, Nouveau Beaujolais is gone and we forage for something else to drink.
Like proper Beaujolais, for one. Like Pinot Noir, for another
"The USC-UCLA game starts at noon?" I exclaimed Saturday. "That'll decimate our Pinot Noir turnout!" As it turned out, I needn't have worried. There were well over 70 Pinot fanciers who were more excited to savor our finest Pinot Noirs than sit at home watching TV. (That's why they invented DVRs.) When I last glanced, the Roots, Scherrer and Copain were leading the charge, despite heavy competition from Sea Smoke, Failla and Goldeneye. It felt like a party, and it was. Oh yes, the good guys finally won one.
Saturday business was so brisk with early Thanksgiving shoppers, I was restocking our German Riesling shelves and case stacks all day--Thanksgiving is the biggest Riesling day of our year--and there were more than a few people stocking up on Eric Bordelet ciders and our grower champagnes to launch their family feasts. If any of you can't restrain yourselves from drinking the family bubbly before Thursday, you can relax. We'll be open 10 to 3 on Thanksgiving Day and I'll personally help you replace your missing fizz.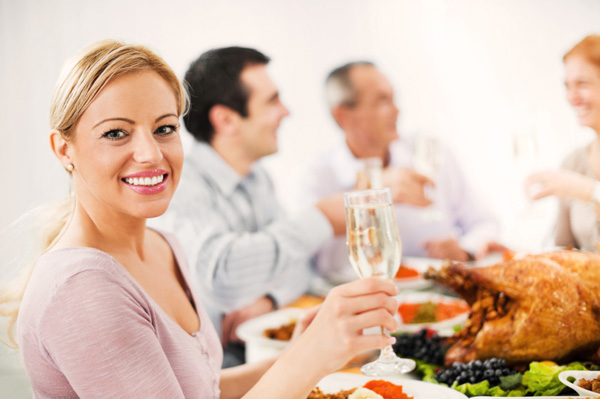 While you're visiting, take a gander at Ronnie's evolving liquor section. One by one he's replacing many of his mega-brand bottles with carefully selected, artisan Scotch Whiskies, farmhouse Armagnacs (a much hipper brandy than Hennessey or Remy-Martin cognacs), sensational rums from islands we've never been to, gins we've never heard of, vodkas just waiting for Wine Country olives, and tequilas so smooth and delicious you'll never again have to shoot 'em to get 'em down.
To satisfy the inner mixologist in us all, small batch Bourbons and rye whiskies have been strategically arriving.
Need some creme de cassis or framboise liqueur to sweeten up your holiday sparkling wine? Ronnie's got 'em, too. Plus, our outstanding Stonewall Kitchen Bloody Mary Mix will be sure to help get things started the morning after. Just add ice, 2 oz. of vodka, a squeeze of fresh lime, a lemon slice or a celery stick garnish and stir.
Two weeks ago the staff met to sample our buyers' nominees for Wine of the Year and to vote for their most deserving. It was a diverse and exhilerating group of wines and we'll reveal them in our December on-line newsletter on the first. Better yet, we'll offer all of our winners and the best of our runners-up in our annual Best of the Year tasting Saturday December 8 from 1 to 4 p.m.
As good as these wines are--and they taste great--things might have turned out very differently had our latest arrivals from the Loire Valley gotten here sooner, in time for the judging. Here is my recommendation: drink your way through our Loire section--very few of the wines are over $25--and sample the minerally, dry red wines that say Chinon, Saumur and Bourgeuil. Better yet, drink them with your next steak and marvel at how they open up and get better and better after each bite. At the same time sample the incredible dry and semi-dry (called Tendre) Chenin Blancs of Vouvray, Montlouis, Saumur, Chinon and other Loire sites and just imagine how good they'll perform with your holiday meals. Rarely are there wines as accomplished as these, combining richness with great acidity to create impeccable balance. Can't decide? Sam will help.
I was passing by Sam's tasting table last week as these and other Loire wines (including excellent Sauvignon Blancs from Sancerre) were being presented by one of our favorite French wine importers. She insisted I sample them. Upon doing so, I told her to double her order.
These are the greatest wine bargains in the world--top flight wines the equal of any of the world's great wines for a fraction of the price of any cult-wine-du-jour. More important, they are not bullshit wines made for bullshitters. They are wines you will enjoy day after day. Wines created for the table. Wines that change the way people think about wine. And everyone can afford them.
When she had just finished displaying the last of her new Loire arrivals she beamed with pride. "This Loire section is second-to-none!"
So there it is. Dale is busy crafting her holiday gift baskets, preparing for the rush. Bennett and Laurie are offering suggestions for domestic wine gift-giving, Ronnie is bouncing between his Armagnacs, Riojas and Barolos helping our customers discover beverages that are luminescent. Andy is bringing his travel experience and his refined palate to his southern Hemisphere selection, and he is joined by Jeremy offering our customers the coolest craft beers available.
And I'm really excited to report I've discovered a bottled Sangria that actually tastes good--Don Simon, the best-seller in Spain. You don't know how many years I've searched, but I've finally found one that is delicious. A lot of people think it's weird getting excited about a bottled Sangria. Including my wife and my entire staff. I don't care. Like any other product in the store, I want to find the best I can, and when I do, I can't help it. That's the fun part of my job.
I had the staff try it. "It doesn't make me barf," said Samantha approvingly. "It's kinda like wine," said another. But sweeter. "Kinda low acid in the middle," said Bennett, which is exactly the point of Sangria, and why it tastes so good with spicy food.
It may not have sunk in yet, but the holiday season is upon us. And we're excited and ready to help.