by Randy Kemner, Proprietor
The Wine Country
I've heard some of our customers think we in the retail wine trade live a life of luxury, always eating fabulous food and drinking fabulous wine every night.

I'm here to tell you that's simply not true.

Sometimes we'll sneak out and eat an In 'N' Out Double-Double, just like regular people.

But we'll wash it down with Dupeuble Beaujolais. That's one thing that sets us apart.
Sure, we drink better wine than most people.

We buy our wine at The Wine Country.

But it's not true that we drink Grand Cru burgundies every night.

We work retail, after all.

No, we drink better because we know the secret recesses of The Wine Country, where all the bargains lie, and we also work with some of the country's best importers, distributors and winery owners.
As far as eating better, it depends on how good a home chef you are.

We have some pretty good ones on our staff, especially my wife Dale. That's my good fortune.
This year's Christmas party for The Wine Country staff was a tour de force display of how we try to entartain all year long.
First, we always begin our meals with champagne. That's champagne, the bubbly drink from Champagne, not an imitation fizz pretending to be champagne. That other stuff we drink only as a last resort, when all the champagne is gone, when our bank balance doesn't permit it or when we try not to appear snobbish to our relatives. Otherwise, Epernay, here we come!
For our Christmas party, Dale threw together something simple from the refrigerator, like sautéed, buttery scallops...
...and made a puréed cauliflower soup topped with caviar. You know, mom food.
There were other appetizers that accompanied our champagne, too.

Crab salad in puffs and a feta, sausage and spinach frittata cut into squares.
Then we sat down for dinner.

The tables were decorated with some evergreen sprigs and candles, just enough to remind us that December is here, but not enough to lull us into thinking this was actually a holiday.

We still have three butt-busting weeks to go until Christmas Day.
Jana
water and Badoit were poured for everyone.

Wine pros, if they're wise, will hydrate often because we tend to drink wine in mass quantities when more than three of us get together at any one time.
Dale served "Soup and Salad", a cute riff on a classic, with a thin wedge of romaine topped with bleu cheese crumbles and an amazing vinaigrette.

Alongside were individual custard-sized ramekins of French Onion Soup.

I've had this recipe for about 40 years, where chicken stock substitutes for beef stock, and vermouth replaces sherry.

The delicious result is a lighter and sweeter soup, with a crouton baked inside, and gruyere melted on top.
I selected Vincent Careme's outstanding Vouvray Sec to accompany the soup and salad, but I wish I'd brought the estate's Vouvray Tendre instead.

A kiss of sweetness was needed in the wine because of the sweetness of the onion soup.

I should have known better, but sometimes I get urged into serving drier wines because the women in my life like them that way.

(Yes, Dale and Samantha, I mean you.

Actually, Sam felt the same way about the Vouvray Tendre, which shocked the hell out of me.

Sam, as you all know, puts lemon and salt on her cantaloupe to lessen the sweetness.)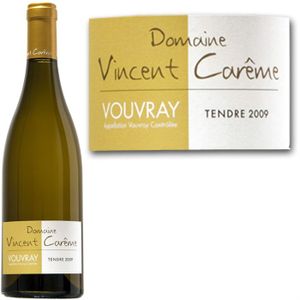 Then Dale introduced her main course—a New York steak roast, cut into slices and served with sides of béarnaise and creamed horseradish.

Accompanying the beef were our choice of steamed haricorts verts or broccoli, and fresh and creamy garlic mashed potatoes.
I conducted an experiment for the wines, placing two wine stems at each setting, one for the outstanding Chinon Gabare from Domaine Grosbois, and the other for one of the most incredible secrets in our store, the hauntingly beautiful Renaissance Cornas from Clape.

The Chinon proved that Loire Cabernet Franc is a much better steak wine than Cabernet Sauvignon, and the Cornas showed all of us how we need to drink Northern Rhone Syrahs more often.

The $21 Chinon was the crowd favorite over the $60 Cornas with this main course that night, growing ever more beautiful in the glass.
Just for grins I pulled out Heitz's 2005 Bella Oaks Cabernet Sauvignon, one of the last of this historic vineyard-designate, to demonstrate how higher alcohol wine (over 14%) performs with food.

Remember, there aren't many Cabernet Sauvignons left that actually smell like Cabernet and taste like Cabernet, but Heitz's is one of them.

I had drunk this a month earlier with a retro Chateaubriand at the wonderfully retro Dal Rae restaurant in Pico Rivera and it impressed me.

It's an impressive Cabernet that many people would prefer over our French reds, but I didn't hear any advocates among our staff, several of which were still marvelling at the wonderful aromas coming from the Chinon and the Cornas.
Our domestic wine buyer Bennett Traub graciously contributed a 1983 magnum of Chave Hermitage Blanc for our cheese course.

Few among the nineteen of us had ever tasted anything like it before, but all were transfixed by its complexity and its continuing fresh flavors.
So how does one follow all of that?

Cherries Jubilee, of course!

And then our annual gift exchange where the most memorable gift opened was a selection of pork products from the new Surfas market in Costa Mesa.
As the fireplace continued to glow and Christmas Bossa-Nova played in the background, all of us knew we had been treated to food and wine that wasn't made for millionaires, all though for one bright night we all felt like one.